King K. Rool

Mario against King K. Rool

Number

8

Appearance(s)

Origin

Donkey Kong Country

Previous Boss

Next Boss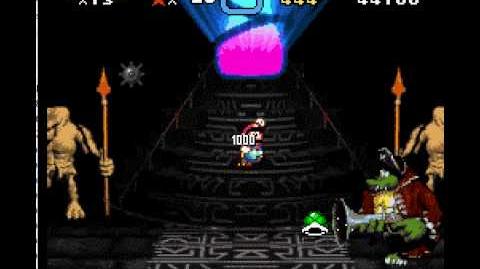 King K. Rool is the second boss fought in Deep Sea Ruins. It is the eighth boss fought in the game.
Background
Edit
King K. Rool is from the Donkey Kong Country series. This battle in particular is from Donkey Kong Country 2. K. Rool is Donkey Kong's archenemy, and has a huge army of crocodiles, called the Kremlings.
In Battle
Edit
King K. Rool attempts to shoot several spikes at Mario. After he finishes his volley, he tries to suck in Mario. After that, he goes to the other side of the screen.
Every time K. Rool is hit, his volley of spikes will become more complicated to avoid. He can also fire an orange substance, which decreases Mario's speed for a short time.
After enough hits, K. Rool will turn invisible. He'll then randomly pop up, and try to suck Mario in.
After every volley of spikes, K. Rool fires a Koopa Shell. If the player hits K. Rool while he sucks up the air, his cannon will blow up, firing an additional spike. Hit him five times, and he'll be launched into the cosmic volcano.
Also, midway into the battle, the player can get a Fire Flower.
Ad blocker interference detected!
Wikia is a free-to-use site that makes money from advertising. We have a modified experience for viewers using ad blockers

Wikia is not accessible if you've made further modifications. Remove the custom ad blocker rule(s) and the page will load as expected.